A cycling trainer is a stationary device designed for cycling indoors when weather conditions are less than ideal. Cyclists use trainers to practice for races because they can be programmed for distance, wind resistance, and incline. Typical trainers feature a triangular frame that affixes onto the rear axle of the bicycle. They have a resistance unit that may be wind, magnetic, or fluid based. Wind resistance units tend to be inexpensive but noisy. Magnetic resistance is quieter and more adjustable. Fluid based systems provide a smooth ride and are the most suitable for powerful riders.

Rollers are an alternate trainer design consisting of three rollers connected by a thin belt. Two rollers run under the rear wheel and hold it in place. The third roller runs under the front wheel. All three rollers move when the bicycle is pedaled. Roller designs require the cyclist to balance on them and may not provide the same resistance effect as the wind, magnetic, or fluid based designs. Additionally, they cannot be used for hard sprints. They do provide an excellent aerobic workout and use the same muscles as road riding.

A stationary bicycle is an aerobic exercise machine that simulates road riding. It can also provide measures of distance, wind resistance, and incline. While a stationary bicycle provides some of the same features as a cycling trainer, cyclists often practice using trainers because they allow the cyclist to train on his or her own bicycle. Stationary bicycles are most often only used for cardiovascular workout and are not used by dedicated cyclists.

Noteworthy cyclist training product suppliers include CycleOps and Kinetic. Of course, at eBay auctions, you can shop for a variety of new and used bicycle trainers and rollers.
---
Copyright © Zeducorp.
All rights reserved.

Bicycle Trainers at eBay
Related Images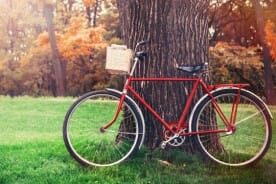 Vintage Bicycle Leaning Against A Tree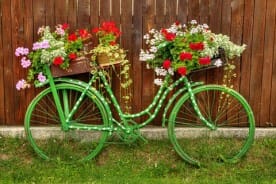 Green Bicycle And Brown Fence