No cyclist likes to anticipate a roadside emergency, but with a little planning and foresight many problems can be handled immediately and with little hassle. There are a number of tools that decrease the likelihood of being stuck on the side of the road, including a spare tube, pump, patch kit, tire-lever, metric Allen key set, and chain tool.

A spare tube is useful for when a tire tube is punctured or otherwise leaking air. Patch kits are helpful for repairing a leaking tire tube, and should be carried on long trips, even if a spare tube is available. A pump is needed to re-inflate a new, repaired, or slowly leaking tire tube. A tire-lever can help pry a tire off its rim, allowing for replacement of the tube. Tire-levers come in metal and plastic varieties; plastic is preferable because it is less likely to damage the rim. An Allen-key/screwdriver set is helpful for repairs, and a fold-up set is handy for traveling. A chain tool allows the chain to be popped off and easily replaced.
Assorted Bicycle Tools
In addition to these basic tools, bicycle mechanics use a wide variety of specialized tools. Cassette removers and chain whips are used for removing gear cassettes, while crank-bolt removers and crank extractors are used for removing cranksets. A cable puller is used to tighten a cable while adjusting the brakes. Spoke keys or wrenches come in various sizes and are used along with a trueing stand to adjust or "true" a wheel, and to replace broken spokes. A headset wrench is used to adjust the tightness of the bearings in the front fork. A cone wrench is a thin wrench used to adjust bearing tension on a wheel. A bench vise is helpful for adjusting wheels. A bicycle stand rounds out the tools needed for bicycle maintenance. Park Tool manufactures bicycle tools for professional and home bicycle mechanics around the world.
You can shop at eBay auctions for new and used bicycle tools and bicycle maintenance accessories.
---
Copyright © Zeducorp.
All rights reserved.

Bicycle Tools at eBay
Related Images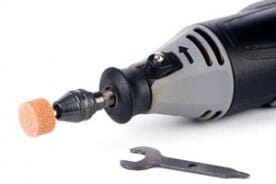 Miniature Rotary Tool And Grinder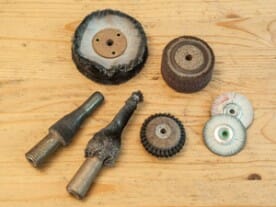 Polishing Tools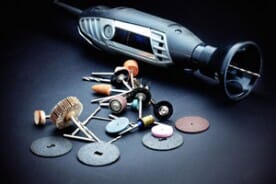 Power Carving Tools And Accessories