A bicycle mirror can be a helpful accessory for watching other cyclists or vehicles approaching from the rear. Often featuring a wide-angle lens, bicycle mirrors may be mounted on bicycle handlebars, on bicycle riders' helmets, or even on riders' eyeglasses. Although mirrors can help improve cyclists' rear vision and peripheral vision, blind spots can still exist. Bicycle riders should not rely only on their rear view mirrors when checking for traffic conditions and other potential hazards of the road.

A rear view mirror is an inexpensive safety accessory, usually priced at twenty dollars or less. Popular cycling mirror makers include CycleAware and Blackburn Design.

Shown at right is a female cyclist riding a bicycle that has a mirror attached to its handlebars. You can also find a selection of new and used bicycle mirrors at eBay.
---
Copyright © Zeducorp.
All rights reserved.

Bicycle Mirrors at eBay
Related Image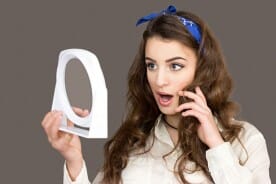 Woman Looks At Her Face In A Mirror