A variety of locks, bars, cables, and chains are available to help secure bicycles against theft, especially when parked in public places. U-locks afford good security, but are fairly expensive and bulky. They are ideal for securing a bike to solid railings or posts. Cables with padlocks are less expensive, and may suffice for use in low-crime areas. Cable locks and chain locks are well-suited for securing bikes to odd-shaped objects.

For best security, a bicycle should be locked to an immovable object, with the frame and both wheels included in the locking device. At the very least, the main lock should encircle the frame and one of the wheels. Some cyclists also use a second lock to prevent theft of the other wheel, or they may remove the front wheel and place it next to the rear wheel when locking their bicycle. Bicycle locks are available in both key lock and combination lock formats.

Shown at right is a bicycle cable lock. At eBay, you can shop for a variety of new and used bicycle locks and security devices.
---
Copyright © Zeducorp.
All rights reserved.

Bicycle Locks at eBay
Related Lock Images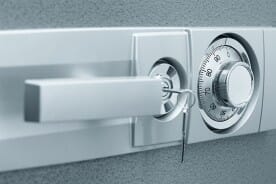 Safe With Combination Lock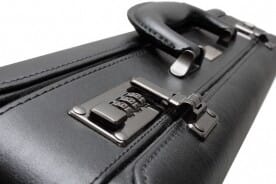 Combination Lock On Black Briefcase