A bicycle helmet is designed to protect the rider's head in the event of an accident or other impact; it is the most obvious form of cycling safety equipment. A helmet is a worthwhile investment and is mandated for children under a certain age in the United States. Many countries around the world have helmet laws for cyclists of all ages. Helmets do crush and break when they absorb energy from accidental impacts, so they must be replaced when damaged. Bicycle helmet makers include Bell Helmets, which manufactures helmets for cycling and auto racing, and Giro, which manufactures protective gear and accessories for cycling and other action sports.

It is essential to get the right helmet for your head, because an improper fit will do little to protect you in an accident. Heads come in all sizes and shapes, so it is important to not only know your size, but which helmet brands tend to shape their helmets best for you. Some helmets are rounder in shape while others are more oval, ranging in size from 51 to 63 cm in circumference. Removable pads inside the helmet can help customize the fit. Ensuring the proper fit will not only provide more protection, but maximum comfort as well.

Bicycle helmets are aerodynamically shaped to reduce wind resistance, and their ventilation slots are located strategically to direct cooling air across their wearers' heads. Retention straps and chin straps keep helmets securely positioned on their riders' heads.

Wear a helmet placed straight and level on your head, with the retention strap snugly securing the helmet behind your head. It is a tendency to tilt the helmet too far back on the head, so check your helmet position in a mirror before each ride. For maximum safety, the chin strap must provide even tension when the helmet is level on the head. Use the extra padding supplied with the helmet to ensure proper fit. Adjust the chin strap and the behind-the-ear strap to fit snugly and prevent the helmet from moving on your head.

Bicycle helmets come in a variety of colors, and brighter colors provide extra visibility for the rider. While it is not advisable to buy a used bicycle helmet, you can certainly shop for new bicycle helmets at eBay.
---
Copyright 2006-2021 Zeducorp.
All rights reserved.

Bicycle Helmets at eBay
Related Images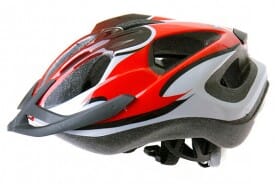 Aerodynamic Cycling Helmet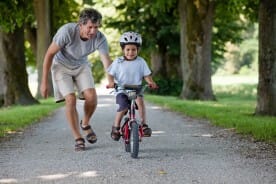 Child Wearing A Safety Helmet