Bicycle computers, or cyclocomputers, are popular electronic devices that can monitor distance travelled and travel time, as well as instantaneous and average speeds. Some units are equipped with GPS locators, heart rate monitors, and altimeters as well. The display unit of a bicycle computer is mounted on the handlebars. Sensors attached to the frame, fork, wheel hub, and/or crankarm, measure wheel rotations and crank arm rotations. Some bicycle computers use wired connections between the display unit and the sensors, while others use wireless connections.

A bicycle computer measures the distance traveled, by means of a magnet located on a wheel spoke. Every time the magnet passes a sensor in the wheel fork, it increments a counter, and multiplies its value by the circumference of the wheel. Bicycle computers are calibrated to individual bicycles and must be set up accordingly, but they provide valuable information for both the avid and casual cyclist.

Popular bicycle computer manufacturers include Sigma, Saris (Cycleops), Cateye, and Polar. You can compare and bid on a broad selection of new and used bicycle computers at eBay.
---
Copyright © Zeducorp.
All rights reserved.

Bicycle Computers at eBay
Cyclist using a Cyclocomputer
Related Image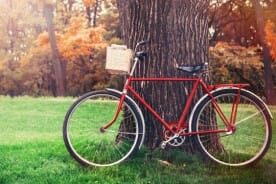 Vintage Bicycle Leaning Against A Tree